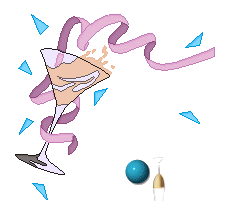 First and Foremost -
HAPPY NEW YEAR EVERYONE

~!~
Now Yes I have dropped out of sight again - really not spending a lot of time on the computer
I really think I have become somewhat burnt out over it.
I did manage to blog on my artblog for 30 days straight and create a lil piece of art for 30 days straight - both in November - I enjoyed myself...then the holidays came on
much too fast.
It was my first holiday without my dad which saddened me a great deal - but I did manage
to be okay---better then what I thought--for me - this is good.
Just wanted to wish everyone - a wonderful New Year--did anyone make
any new year resolutions - it was almost two years ago that I woke up and said
NO MORE CIGARETTES - so that is something to celebrate this month.
My resolution is going to be
DECLUTTER MY SURROUNDINGS/LIFE
and
BE CREATIVE
at least once a week--do something
to keep those creative juices flowing!
I am still living the life of a recluse - but I am getting better at accepting
that of myself instead of making myself feel terrible about it! This also is a good thing
for me!
I hope to put some pics up of stuff around here--hopefully soon!
In the meantime - I hope your New Year brings you much
HAPPINESS
and
PROSPERITY
..
and that

LOVE

guides your every step
!
See you all soon-
PEACE
~!~