WOW
- First I want to
THANK YOU
all for the great Thanksgiving wishes.
We had a beautiful time - it was just my hunnie and daughter and I - small, intimate and absolutely delicious.
Allen actually cooked the turkey - melt in your mouth...Crystalyn made all the side dishes that
were flawless...and I - I was the slave driver and enjoyed every minute of it...LOL.
Truly we had such a beautiful meal, laid back and watched football and just pigged out.
I loved every second of it!
We had enough leftovers for the next day and that was it...we were piglets.
We heard from our son overseas - he sounded homesick because it is the holidays but
it was nice to hear his voice and spend some time with him.
Then, of course, we had to watch rivalry saturday in college football...we made
homemade chili (
YUMMO
) and we were glued to the TV.
The best news is that the
GA

TO

RS

WON
(
my team
) against the
SEMINOLES
(
my
hunnie's team
)
YES YES YES
- another year of bragging rights!!!
They kicked butt - Gators 45--to Seminoles 15.
That was a smear!!
GO
GA
TO
RS
!!!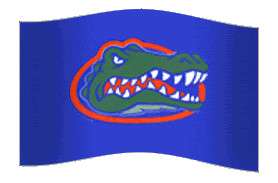 Now this past month - I have been participating in a class called
SOUL COACHING
...
I truly enjoyed every second of it and met some supreme peeps...
Every day we had to write about whatever the topic had been that day...
I blogged about it at my other blog if you ever want to check it out:
MOTHER AND DAUGHTER PROSPECTIVE
.
Because I had to blog every day for the class - I joined in on
NABLOPO
MO
which is
National Blog Posting Month....I did it!!!
I managed to blog every single day for the month of November!!
I was also part of
Art Every Day Month
for November - I created an
ATC
card (
my choice of medium and expression
) - every single day for the whole month of November.
Now that was a creative flow that I hit right on the money - because all the cards just flowed putting them together - I did not struggle once with what to do or what direction
to go into - I love it!!
If you want to check out all the ATC card creations I made they are on my art blog:
FINDING MYSELF
.
I am so proud of myself - three projects that I started and finished and did not
let my illness and depressive fog interfere or overpower me.
Truly - if you just knew how much I struggle every day to get up and do something
those three projects being completed are miraculous...my family has been so supportive and have noticed the difference!
Okay - there were some of you that asked about the
PEOPLE MIGRATION
project that
I was getting involved with....
PLEASE
email me (
addy in my profile
) that you are interested and I will send you the email address of the lady that created them...and she can send you your own people.
So before college let out for the holiday, my daughter brought a people to her college to hang out with her at the library while she worked on a project...she has named her people
"FAT LOUIE"
my daughter has a vivid sense of fun and creativity...so here is the start to
the people living here with us...Fat Louie at a college library: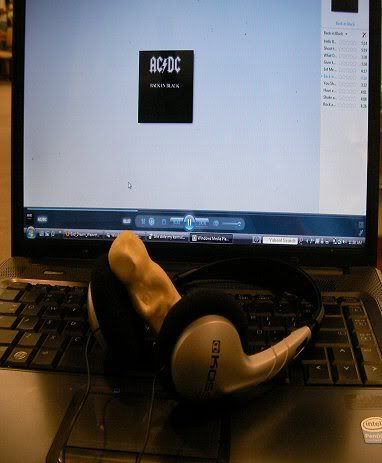 the above is fat louie listening to ACDC (
with headphones
) on the puter.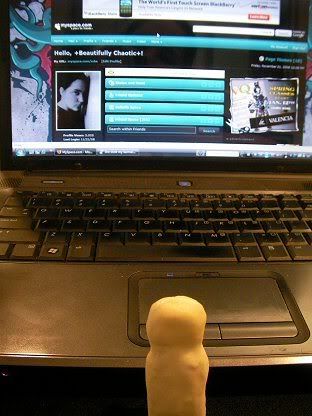 this is fat louie - looking up myspace pages!!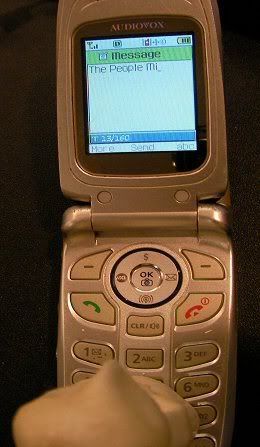 This is Fat Louie phone texting people migration!!
This is going to be fun - you can tell we just go crazy - with any project - we will constantly be
including our people in our every day lives and that way - you can see where this project goes..and the fun...my daughter is thinking of making our people their own blog -
OM
G - she has gone over the deep end - but I like it.....
LOL
!
Remember that little Christmas tree that I purchased last year and took pics to show you all?
Well anyway - we decided to not put it outside this year....we have brought it into the puter room since that is the room we use the most etc...
So our little tree fits perfectly on top of our file cabinet (
short one
) and is decorated.
I will upload pics next time...It really looks cute and even the hunnie thought it
was a great idea...so I am always looking at the great light and a few trinkets on it!!
LOVE IT
!!
We bought potted evergreen trees (
about 4 feet tall each
) - and that is what we are going to put
outside. I think it will look neat - of course I will take pics of that too and show you all!
We took the majority of pics off my wall in front of my puter for Christmas cards so that they are the backdrop for the tree...I think it is going to look cool!
BTW
- if you would like to exchange home addresses for a christmas card exchange
PLEASE
email me and I will send you my address and then you can send yours to me..
I would love to get cards from you all - you are my peeps...and for the first time
since I became ill - I am so
IN THE MOOD
to do fun things for the holidays and this
is one of them!!
So please do not be shy - I will NOT share your address with any one for anything....I just want to send out some christmas cheer!
Well I think I have rambled on enough - so I will end my small novel now.
Thanks for stopping by - remember to
HUG
someone you
LOVE
!!!
PEACE
~!~