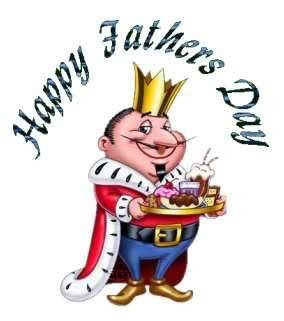 I just wanted to take this opportunity to wish all the dads out there a very

HAPPY FATHER'S DAY

- but most of all to my dad--I know he would not recognize me right now - I wish things were back to how they used to be 5 years ago - when all was well - and we used to hang out on sundays....but I just wanted to say how much

I LOVE YOU DAD

...Thanks for everything you have ever done for me - Thanks for making life so beautiful for me - Thanks for just being you - I miss you immensely and need you - for now I just pray that
God hold you so close to his heart -

HAPPY FATHER'S DAY daddy

-

Below is a poem I found - could not find one that really hit home but I really like the story in it...have a beautiful day~!~


Father's Day Game Delay
He sat and watched the baseball game like every Father's Day,
His kids were grown and all moved out and lived so far away.
He knew one at a time would call and they would always say,
"Hi Dad . . . I just called to wish you Happy Father's Day."
His wife had passed some years ago, now he lived all alone,
So now the highlight of this day was waiting by the phone.
The game would start at 1 PM when he would hear "Play ball."
And he knew by the last inning that all of them would call.
When they would call it would be short and few words would be spoken,
He wondered if on Father's Day their calls were just a token.
He loved his children and he knew that they all loved him too,
But it seemed that they had drifted as kids often do.
They get so caught up in their lives, so busy all the time,
And don't give him a second thought because they know he's fine.
He sees them maybe twice a year around the holidays,
It's hard to get together as they've all gone separate ways.
At least they do remember him if just a little call,
And remember that he's here just watching his baseball.
So as he sits and waits for them, the game is growing long.
It is the seventh inning and no calls; there's something wrong.
Deep in thought of what had happened with no way to tell,
He was jolted from his thoughts by sounds of his doorbell.
He quickly got up from his chair it caught him by surprise,
And when he opened up the door could not believe his eyes.
A man was standing at the door and smiled and called his name,
And he replied "Why, yes, that's me. I am one and the same."
Then, "Happy Father's Day to you, now I am on my way."
And then he handed him a huge and beautiful bouquet.
He just stood and stared at them while standing at the door,
No one had ever sent him flowers in his life before.
He thought someone had made an error on delivery,
He took the flowers in and opened up the card to see.
He opened up the little card to see what it would say,
And as he read the first line it said "Happy Father's Day!"
"It's from the kids," he softly said, "now this is a surprise."
And as he read the little card the tears filled up his eyes.
Dad you know we always call you on this special day,
But it's so hard for all of us to find the words to say,
To tell you Dad how much we love you just for being you,
So this year we all got the idea to try something new.
Flowers are the ultimate expression to show love,
Flowers are the special gift when you are thinking of,
Someone who is precious and means all the world to you,
Nothing else says "I love you" the way that flowers do.
So place them somewhere you can see and smell the sweet bouquet,
Because the flowers represent what we all want to say.
We love you Dad with all our hearts and this is just our way,
To tell you this and hope you have the greatest Father's Day.
He put the little card aside and smiled and wiped his eyes,
The tears were running down his cheeks because of his surprise.
His heart was overflowing with the love behind their plan,
Flowers say "I love you" even when sent to a man.