I cannot believe another week has flown by...geez - the time is flying and I am so not ready
for holidays or anything!
Before I get to
THANKFUL THURSDAY
....let me catch you all up on life here.
Last week the Shuttle Endeavour went up to the space station - it was a night flight - and the last one for the shuttle mission. You would think because we live in Florida that Floridians have seen hundreds of flights take off and we are used to it...but that is so
NOT
true...
every flight there is traffic for hours on end just to see it night or day....it just takes your breath away to just be here so close yet so far away...it is amazing!
A night flight is awe inspiring...the beauty of it just cannot be captured in words - the experience
of seeing it speaks volumes...
my daughter went outside to get some pictures but they are a bit blurry but I am going to share with you all...just to get a sneak peek at a shuttle experience - (
in case you have never seen it
).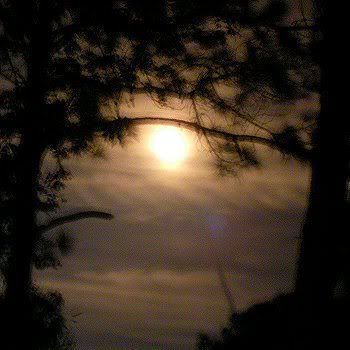 The above picture is after about 30 seconds into the flight...it lit up the sky as if it was
daylight - so awesome.....all the high school football games
STOPPED
when the shuttle went
up because the skies looked like the middle of the day - it was amazing...
as you can see there were alot of cloud cover which will explain the next picture....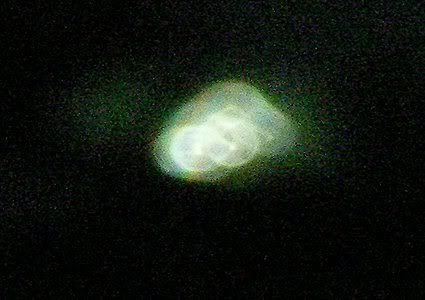 The above picture is when the shuttle hit the high clouds and those are the colors that it put off.
Absolutely outstanding - you just cannot help but be in awe seeing it in person.
The green hues were wild.
NOW - I am also involved in a little world peace project going on (
I just happen to stumble upon it - it is interesting
). It is called
People Migration
. There is a lady from Montana who is an artist and she made clay figure (
small
) that she just calls people...she decided to promote world peace by offering to send these people to other people - who would share some of the people with people they knew...with the people you keep - you take pictures of things that the people are doing....(
is any of this making sense?
) She initially made 910 clay people...and does not
charge anyone for mailing them to you...she just wants you to play along and take pictures of what these people are doing...all in the spirit of peace and friendship...now how cool is that.
Anyway - I got my people the other day and this is the picture of their arrival:
Now one of these people will be heading to Canada to a friend of my daughter's so that she can enjoy a people and take pictures of a people in Canada.....
One is heading to Japan to the wayward son....I am sure a people would love to see what army life is like...and my son is crazy enough to jump right in on this project...
on the bottom of each clay person is a note tucked up inside that tells you about the project and where to email or upload the pics to....
What a positive way to get people together to do Good!!!
Okay that was all the fun news....now onto
THANKFUL THURSDAY
...
Here we go:
1
- I am thankful for the people migration project and for my people - something fun and to be creative with...now how cool an idea!!!
2
- I am thankful for my hunnie making me some awesome coffee this past week....it has been
especially delicious...and in the cool weather - just perfect!
3
- I am thankful for the
MUCH
cooler/cold weather - it feels wonderful to breath it all
in and not feel stiffled or struggling to take a breath.
4
- I am thankful for my hunnie planning out Thanksgiving dinner...he even did the grocery shopping for it...I am blessed!
5
- I am thankful for my bird
SPIKE
who has found it even more necessary lately to mimic the words I am saying - he is just cracking me up...he already says quite a few words but lately
he is going overboard...lol
So what are you
THANKFUL
for......?
Well I think I have made up for not writing any entries this past week...
I hope you all enjoy the rest of the week...and how exciting -
ESPN NFL NETWORK
has a football game now on thursday - so you know where I will be...LOL
Remember to
HUG
someone you
LOVE
~!~
PEACE