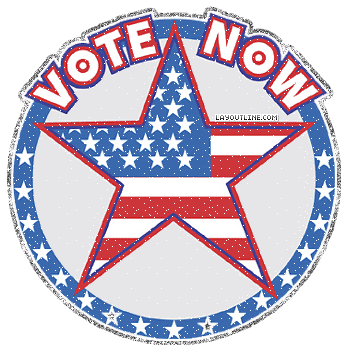 GO VOTE GO VOTE GO VOTE GO VOTE GO VOTE
!!!
I already voted by absentee ballot (
thank God for those
) and was done with that last week or so.
I am so done with all the political ads on TV.
Now we wait!!!
I do not care about who you vote for just
VOTE
!!!
It seems this election is going to be close and crazy - so make sure that your voice is heard!
Well that is it for me as far as political talk.
Heard from the wayward son - he is fine - doing his army thing - the news he had to report is that he got a promotion -

YAYAYAY

!
I am really happy for the kid - he is talking about re-enlisting next year- I reserve my opinion on that - but if it is what he truly wants then I am all for it!
Well - this entry is a short one - just wanted to make sure I got my voice out there and encouraged all of you to

VOTE VOTE VOTE

!!!
Thanks for stopping by - Remember to

HUG

those you

LOVE

!
PEACE

!!!