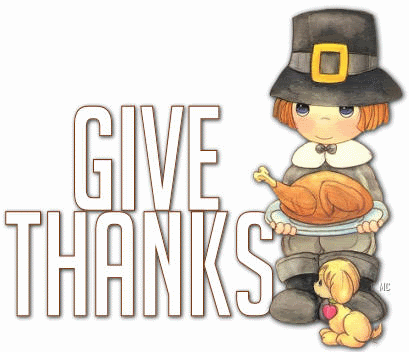 FIRST---I want to wish each and everyone of you a VERY HAPPY THANKSGIVING---I hope your day is filled with many Blessings and much Love!!!
These Are The Things I Am THANKFUL For…. (In No Particular Order)

1- For My Family—there are NO words to truly describe how BLESSED I am to have the Family I do….Allen who is my strength—Eric and AJ who made motherhood something I fell in Love with..Crystalyn—the reason I was Born—unconditional Love!!
2-For My Friends—who, no matter WHAT—have stuck by me..care about me…love me…and just accept me for the strange person I am.
3-For My GrandChildren-Who have shown me a whole new level of Love!!
4-For God—Allowing me This Much Time To Live the Beautiful Life I have!!
5-For the soldiers Who Chose To protect My Freedoms so I can Enjoy such a holiday!
6-For Those Who Have Come into My Life and Left—You Taught Me How To Become Stronger-To Forgive and Forget-To Grow and Change.
I am TRULY BLESSED—No Doubt About It….Have A Beautiful Day!!