I just had to use more fall colors - since the leaves do not change here in the sunshine state - I
have this longing to see them this year...it has been about 2o years since I have since a true autumn day full of colorful leaves - I so miss that - if any of you out there take pics of some autumn leaves/colors please send them to me - thanks!!!
So far the weekend has been good - watch some great college football - and
YES YES YES
..the

F

l

o

r

i

d

a

G

a

t

o

r

s

beat LSU.... the score was
51-21
-what a great game!!!

I am presently struggling with some insomnia - but I seem to go through phases of that...tho
right now I could really use a good night's sleep.
We have been having an unusual amount of rainfall this month - usually we dry up in october and go into our dry season but it has been raining every day for almost a week here - tho the temps are a bit cooler - (
very low 80's
) it just makes for a soggy feeling.
NOW
- for even better news - I entered this give away at a blog that I am truly enjoying (
NOT

an aol refugee
) she is having a give away every day this month - pretty cool -anyway - I never win anything but lo and behold
I WON
...yes a halloween pendant...
YAYAYAYAY
...it arrived the other day...here is a picture from her blog of the pendant - I put it in the window at my front door for all to see - it is too cute....I wanted to win this so bad because the artist who made it - I just happen to be acquainted with - I think I can say we are friends in blog land - so I am doubly blessed.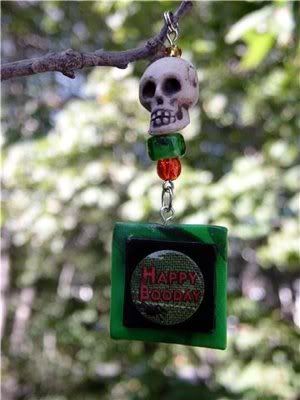 Anyway - if you would like a chance to win some fun stuffies - head on over to
MRS. B'S 31 DAYS OF HALLOWEEN
.
Some more good news - I got to chat with my son-who is deployed - he is doing good - army is keeping him busy...he just got back from some specialized training for a week in Korea..how cool. It does my heart good to know life is good for him...this worrying stuff is aging me...LOL.
BTW
- did I mention that the hunnie and daughter had a
MAGNIFICIENT
time at Universal. I am so glad - Crystalyn took some pictures but not many because it was storming there. But a great time was had by all and they came home exhausted!!! As soon as she uploads any of the pics I will show you all what I can!!!
Well I think I will go check out some blogs before trying to get some zzz's.
Thanks so much for stopping by and Looking!!
Remember to
HUG
someone you
LOVE
!
PEACE
~!~