WOW
- there has been a mass exodus from AOL journals to the lovely BLOGGER...
All my dear friends from AOL are now here - I am hoping to catch up with as many as possible -
or I hope they find me. AOL has done the last of the final screwing of their customers and has
closed down their web pages and their journals...I believe it might also be their picture storage
area but I am not sure yet...they have given us exactly one month to try and save our pages, journals and pictures before the end of October because come November 1st, they will be gone.
There are some new toys I have discovered on the web - the fun one being
TWITTER
.
(
you can see the lil pink box in my side bar - with my rece
nt messages to all that follow me on twitter
). A way to send out short messages to friends and whomever from your cell phone by texting or via the web...just a fun way to keep up to the minute news with friends, family and all.
I have been using
TWITTER
for I think about two weeks or so and really have enjoyed it.
You might see on web sites - that they tell you to add them to their twitter - because companies are also using
TWITTER
to keep their customers/clients up to date with news and such.
It is easy and fun and nothing to download...so head on over and check it out for yourself.
If you do join
TWITTER
- let me know so I can follow you and you can follow me on it.
I also have joined
NaBloPoMo
(
National Blog Posting Month
) (
you can see t
he lil image on my sidebar
). It started out as encouraging bloggers to take the month of November and blog everyday for one month - that is it...you write about whatever you want...just every single day....I always wanted to do it - so I joined their forum (
w
hich you do not have to
) and I am committed to doing it...It is also one of the goals I set out for myself this year. Since I was sick the first half of the year - I definitely want to accomplish some of my goals - so at least I feel like I have accomplished something.
Check it out for yourself - again let me know if you join - I think it will be a blast!
I should also mention that the daughter has started college -
OMG
- that officially made me feel old. I am so thrilled for her tho. This semester is
NOT
thrilling her at all because she has to take all required classes like Math and student life and such so that you can start taking classes of your choice. She is also taking an English (
language arts
) class, she likes english - but prefers to take creative writing but has to take this english 101 first.
She is attending the local community college for her first two years. She will be getting her A.A. degree in Graphic Designs..and then head to a state university for her B.A. in the same field. It is so much more easier to get into a state university here if you already have all the preliminaires out of the way and you are transferring with a degree already in hand.
Once she gets into her art and design classes she will be a very
HAPPY
camper...and time will fly by for her.
Here is one of her graduation pictures from High School -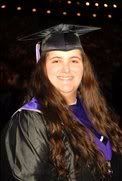 I wrote about some catch up news prior to starting this blog which you can read here at:
Mother & Daughter Prospective
...gets into some news that I am leaving out right now!
Well I wanted to get some sort of opening entry here in my blog so that it does not look like I deserted my blog - Thanks for stopping by -
PEACE
~!~