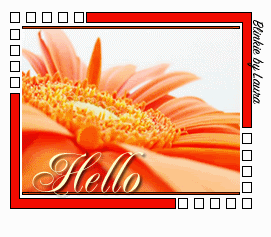 For some reason - the little spam robots have tagged new blogs that they felt were spam.
Unfortunately one of them was mine - I did not know I could still post - but I finally figured things out...(

I am a little slow

).
I received a letter from AOL to import my old journal to blogger - it was

FAST

- and I had 5 years worth of entries...I did import - but it does

NOT

let you import into a blog you already have. It imports a blog using the name you had at AOL or as close as possible to it...mine was not taken but now I have that blog and this one...

GEEZ

- what to do what to do!!!
Anyone have any suggestions...I am lost!!!
All my entries and the comments imported over but not in color (

just B/W

) and all the graphics I had ....but the sidebar does not import - obviously.
I have complained everywhere, by the way, over my blog being flagged. I think my blog went out visiting or something and attracted too much attention because it is so cute (

geez - I am getting slap happy over this garbage

). I do not know if it is going to let me publish this - there is a word verification thingy I have to do so I am thinking it will...but the impression you get on the dashboard is that you cannot publish anything....there are people waiting over two weeks to get their blogs released - blogger is so far behind. But if I can publish then I am ok with all of this!
It will get resolved sooner or later.
The only thing I could figure out about getting tagged is that I changed my security verification twice in 24 hours - first I had a word verification then I took it off because some people find it hard to see the letters - that is pretty much the most common factor among those that got flagged that I could read in the forum that blogger has at google. It had nothing to do with too many entries - just security because that would cause people to receive spam...that is
bottom line!
Well my anxiety is settling down now...OH by the way...if you want to see how my old
journal imported over here - you can take a look here -
ELLIE'S CRAZY LIFE
..
Tonight I will be home alone because hunnie and daughter are going to

HORROR NIGHTS

at Universal...so the dogs and I will vegetate --

BTW

- as a surprise I bought them "easy passes" for the night so that they do not have to wait on long lines...

YAYAY

!!
I hope everyone is having a happy week and let me know if you have stopped by and if you imported your journal from AOL (

if you are one of the discarded children from there

).
Hug SomeOne You Love ......

PEACE

~!~