I know - kind of lazy in my postings - to be honest - I have not felt up to par - lots of headaches - but I have noticed now that the cooler weather has hit the last couple of days - the headaches are
gone - maybe it is something to do with the atmospheric pressure - at least that is my story
and I am sticking to it...lol.
Allen was away all weekend - he decided to head down south
to help out his brother with
fixing some cars that his brother owns - to be honest - this is one of the first times I did not mind. I think Allen needed a break away - he has been keeping himself busy but he also internalizes a lot and I think just getting away for a bit works for him...
the daughter was
home all weekend so I was not alone...we had a nice weekend - pigged out on munchies - played on the puters until the wee hours - laughed at silly stuff - watched football and some cool movies - so all was well.
Allen and Crystalyn did manage to buy some pumpkins last week - the perfect sizes for us...and of course we cannot be normal - so here are our decorated pumpkins--the daughter gets the credit - she amazes me: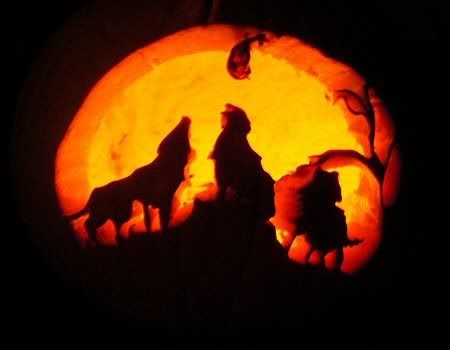 Aren't they just the cutest pumpkins - LOL!!!
Okay have a mentioned that our high temps today will be 56 degrees - for Florida in October
that is
COLD
- but I am loving it - feels so good - makes the air so much easier to breathe for me!
Now onto a game
.....
Well, I got tagged by
Anke
and
Mrs B
here are the rules:
* link to the person who tagged you * list 6 random things about yourself * tag 6 new people * let each tagged person know by posting a comment on their blog * link to the 6 people you've tagged * and let the person who tagged you know that you posted
Things you may not know about me - random----
1
- The majority of schools I attended, growing up, were private all girls schools
2
- I used to own and run a Day Care Center
3
- I used to be a party planner for kids parties
4
- my first language was Spanish not English -
did not speak English until I was about 5
5
- I wrote/developed and taught a life skills program for juvenile offenders
that were given adult state time.
6
- I played the piano at a Carnegie Hall concert when I was much younger - played the piano since I was 4 - gave it up sometime in high school - too rusty now!
Okay - these are the peeps I tag - I want some dirt on...LOL
Bill
(Bears Den)
Kathy
(Field of Dreams)
Chris
(Cabs Creations and Chit Chat)
Emmi
(Emmi's Snagger Tagger)
Dawn
(Carpe Diem)
Marilyn
(Marilyn's Creative Angels)
A-L-R-I-G-H-T-Y THEN
- I will end this torture here -
Since it is after 6 in the morning I am
guessing I should get some sleep - then again - who needs sleep -
I could go on for hours...LOL.
Thanks so much for stopping by and Looking -
Remember to
HUG
someone you
LOVE
!
PEACE
~!~